About Us
Office Information
The Academic Resource Center
Leavey Center 338
Washington, D.C. 20057
(202) 687-8354
(202) 687-0077
arc@georgetown.edu
Directions to the Academic Resource Center
The Leavey Center is located in the north side of Georgetown's main campus.
To get to the Academic Resource Center, enter the Leavey Center through the pedestrian bridge entrance and turn right. [An elevator to the pedestrian bridge is located on the north side of the stairs.] Once inside the Leavey Center, there are two blue elevators located next to the Georgetown University Alumni and Student Federal Credit Union (GUASFCU) office. Take the elevator to the 3rd floor. We are located to the right of the elevators.
If you enter the Leavey Center through the Regents Hall Science Center, go through Sellinger Lounge towards the bookstore. Once you reach the bookstore, turn right and go towards the main entrance doors. From there, turn left towards the GUASFCU office and you'll find the blue elevators. Take the elevator to the 3rd floor. We are located to the right of the elevators.
Social Media
---
Our Team
Joseph P. Fisher, Ph.D.
Executive Director
As the Executive Director of the Academic Resource Center, Joseph P. Fisher works to establish a culture of access for the Georgetown student community. Joe sees disability as a natural part of human diversity, and he seeks to foster this understanding among the campus community as a whole.
Joe's academic training is in literary studies. He holds a Ph.D. in English, with sub-specializations in critical theory, disability studies, and writing pedagogy. Prior to his time in the ARC, Joe was an Assistant Director at The George Washington University's Disability Support Services office, and he taught a variety of classes at George Washington and at Northern Virginia Community College. Joe is a lifelong distance runner, and he sometimes plays the drums. (Pronouns: he/him/his)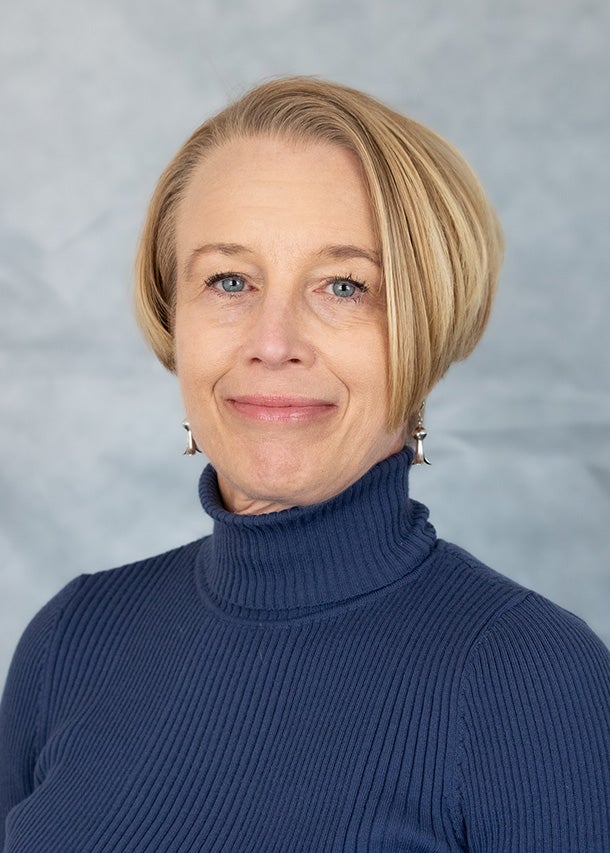 Shelly K. Habel, Ph.D.
Associate Director, Student-Athlete Services
(202) 687-9177
skh@georgetown.edu
Dr. Habel has been at Georgetown University for 21 years, teaching as a Visiting Assistant Professor in the Sociology Department for five years before accepting their current position. Dr. Habel works closely with senior administrators across different schools, with directors of programs who integrate academic and curricular experiences, and with departments that provide direct and administrative student services to ensure the academic success of Hoya student-athletes.
Dr. Habel also assists with creating, revising, recommending, implementing, and interpreting University policies, practices, and procedures affecting undergraduate student-athletes, their parents, and faculty. They collaborate with the Coordinator for Student-Athlete Services and supervise a team of Graduate Assistants who provide supplemental academic support to student-athletes. Their main focus is counseling student-athletes regarding course selection, registration, and performing regular check-in meetings throughout the semester/academic year. They also oversee the Study Hall and Jump Start Summer programs.
Dr. Habel earned their Ph.D. in Sociology from the University of Hawaii at Manoa, focusing their research on social change and economic development in small, rural, and ethnically diverse communities. (Pronouns: they/their/theirs)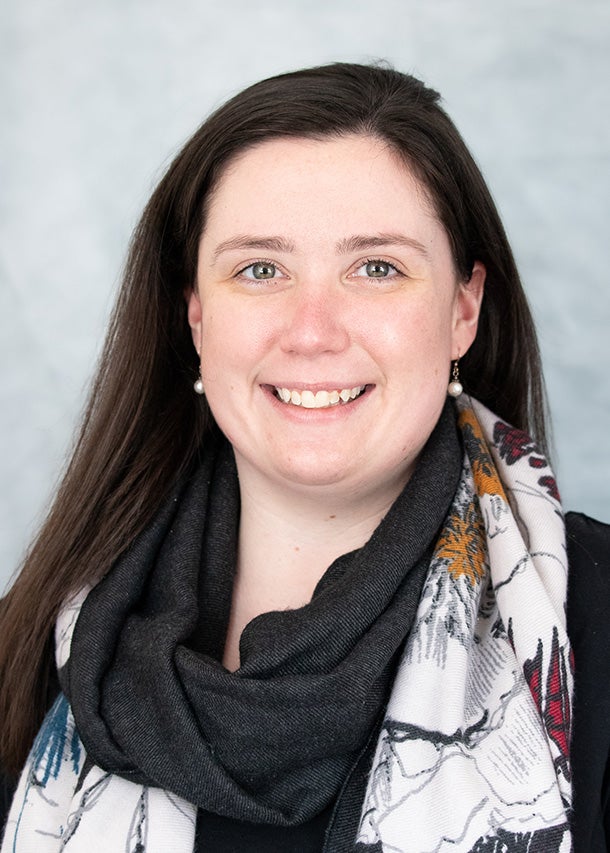 As the ARC's Associate Director, Clare advises students with disabilities, collaborates with the Office of Residential Living to coordinate housing accommodations, and coordinates CART and ASL interpreting services for courses. She also provides support to the Student Wellness and Counseling Center at GU Qatar.
Clare holds a Bachelor of Arts in History and Secondary Education from The Catholic University of America and a Master's of Education in Special Education from the University of Maryland, College Park. Prior to coming to Georgetown, Clare taught Social Studies and coordinated a program for students with learning disabilities in a private high school in Prince George's County, MD. (Pronouns: she/her/hers)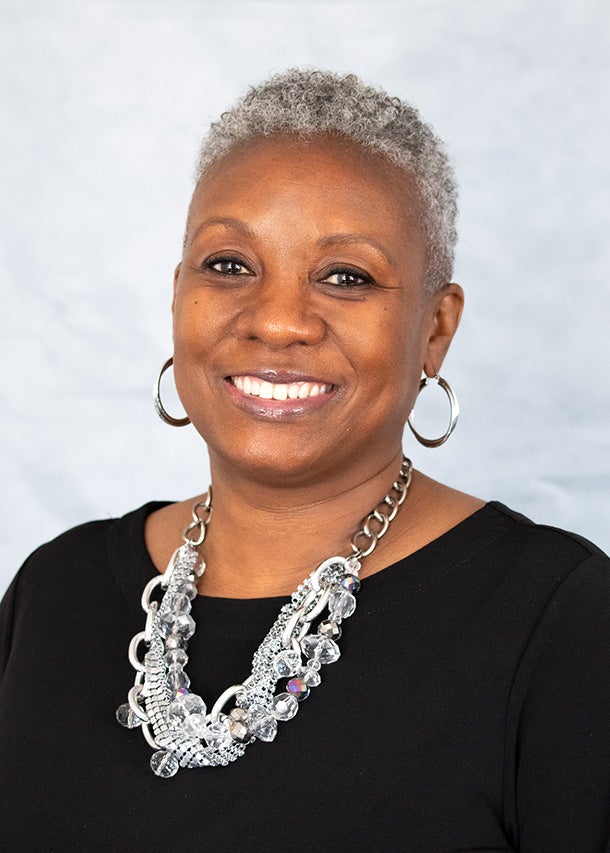 As an Associate Director, Debra coordinates accommodated testing and works with undergraduate, graduate, and medical students with and without disabilities. She also works directly with academic leaders, including faculty and deans, related to student success. Prior to her role with the ARC, Debra served as the Associate Director, Academic Services for Men's Basketball.
Before transitioning to Georgetown, Debra spent 18 years as an administrator with Prince George's County Public Schools and served as an adjunct professor at Prince George's Community College. Debra earned a Bachelor's of Science in Physical Education from Oakwood University, a Master's in Education Administration and Supervision from the University of Phoenix, and an Education Specialist Degree from Argosy University. (Pronouns: she/her/hers)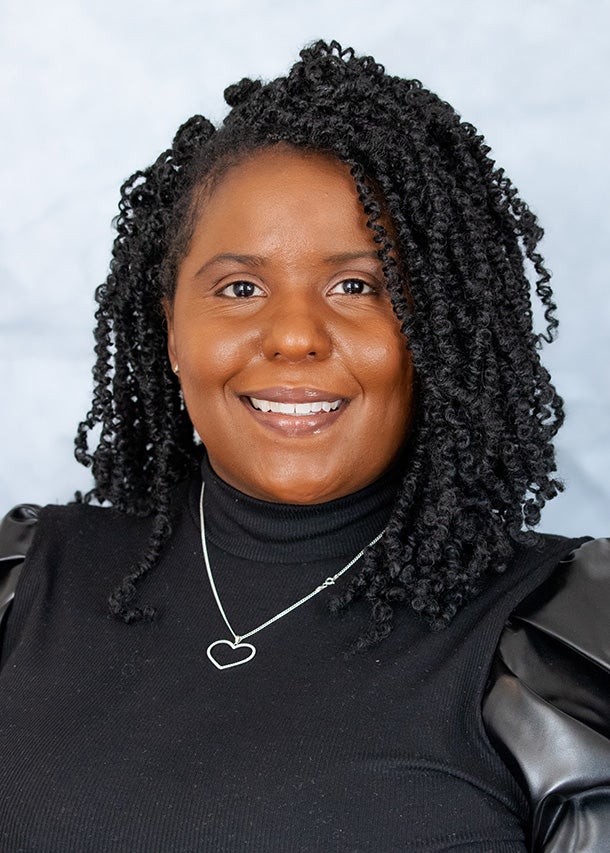 Shenise Miller, M.Ed.
Associate Director, Academic Services for Men's Basketball
Shenise Miller, M.Ed, a native New Yorker, holds a Bachelor of Arts in Political Science and Master's in Special Education from Howard University. Shenise is currently completing her Doctorate in Educational Leadership and Policy at American University, focusing on literacy intervention and programming. As the Associate Director, Academic Services for Men's Basketball, Shenise assists student-athletes with academic support and advising to ensure educational excellence and eligibility while members of the Georgetown University community. Shenise joins the Georgetown community after ten years of public service in Washington, D.C. public and public charter schools. (Pronouns: she/her/hers)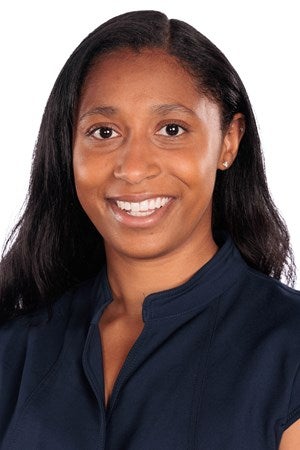 Taylor Scales, M.A.
Academic Coordinator for the Women's Basketball Team
Taylor joined the Academic Resource Center as the Academic Coordinator for Women's Basketball. She is responsible for providing academic support to the team; equipping them with necessary resources and support to enhance their experience in the classroom. She believes in a holistic approach to helping student-athletes in order to help create well-rounded student-athletes.
Prior to Georgetown, Taylor served as the Academic Advisor at George Washington University for Men's Basketball and several other teams. Originally from Pennsylvania, she earned her bachelor's degree from Slippery Rock University where she was a member of the track and field team and pursued a master's degree at Geneva College while serving as the Graduate Assistant Coach. (Pronouns: she/her/hers)
Miguel Capers, M.Ed.
Disability & Learning Skills Advisor (School of Continuing Studies)
(202) 784-7366
arc-scs@georgetown.edu
Miguel is the Disability & Learning Skills Advisor at the School of Continuing Studies (SCS). Miguel earned a B.A. in Psychology from Fort Valley State University, an M.Ed. in Special Education from Texas A&M University, and is currently a Doctoral Candidate in Diversity and Equity in Education at the University of Illinois Urbana-Champaign. His research focuses on the intersectionality of race, gender, and disability, inclusive practices for students with disabilities, and the transition of students with disabilities to post-school environments. Miguel is looking forward to working with Georgetown University students, faculty, and staff in the continued effort to make the university a more inclusive and equitable space for individuals with disabilities. In his free time, Miguel plays the cello, paints, and enjoys tennis, hiking, camping, anime, and anything sci-fi. (Pronouns: he/him/his)
As the ARC's Disability Specialist, Brittney's work includes advising students with disabilities; collaborating with University stakeholders regarding student accommodations and matters of accessibility; coordinating and implementing the Workforce Recruitment Program in conjunction with the Cawley Career Education Center; and collaborating with the Office of Global Education to strengthen resources for students with disabilities who study abroad.
Brittney holds an M.A. in Higher Education – Student Affairs and a graduate certificate in International Higher Education from Boston College, as well as a B.S. dual degree in Elementary Education and Special Education from the University of Nebraska-Lincoln. Prior to joining the ARC, Brittney taught students with autism and related disabilities in the Boston suburbs, and lived and taught preschool in Prague, Czech Republic. When she's not working with students on the Hilltop, Brittney enjoys traveling, reading, and exploring the DC neighborhoods. (Pronouns: she/her/hers)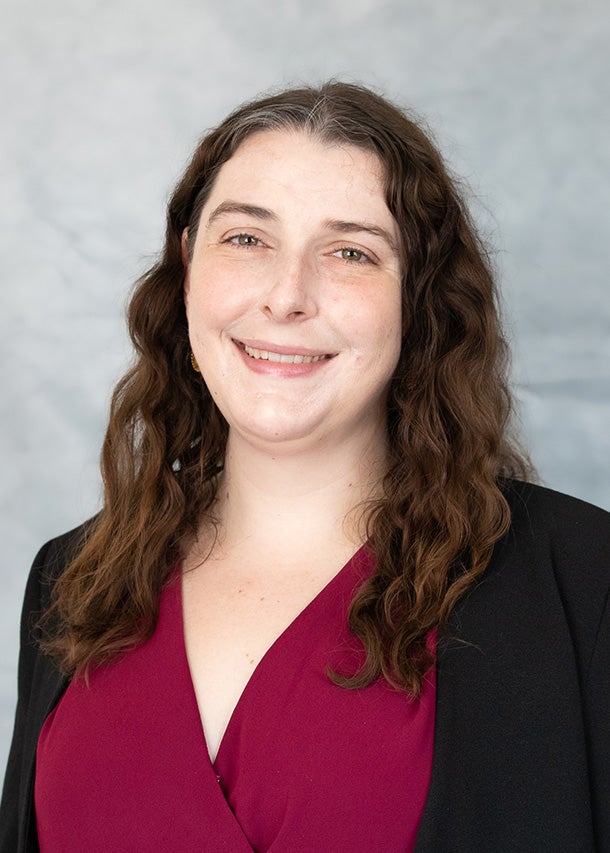 In her role as the Learning Skills Specialist, Betsy provides one-on-one consultations to students experiencing academic challenges. She facilitates study skills workshops for groups of students across campus, as well as highlighting different study techniques in the Academic Success Webinar Series. Betsy also manages the ARC's foreign language tutoring program.
Betsy received her M.Ed. in Higher Education from Harvard University. She also holds an M.F.A. in Creative Writing from Emerson College, as well as a B.A. in English from Villanova University. Before working with the ARC, Betsy worked for Georgetown's Office of Residential Living. She came to DC following her time working as a writing instructor in the Boston area. Outside of work, Betsy enjoys exploring local hiking trails and staying up late with a good book. (Pronouns: she/her/hers)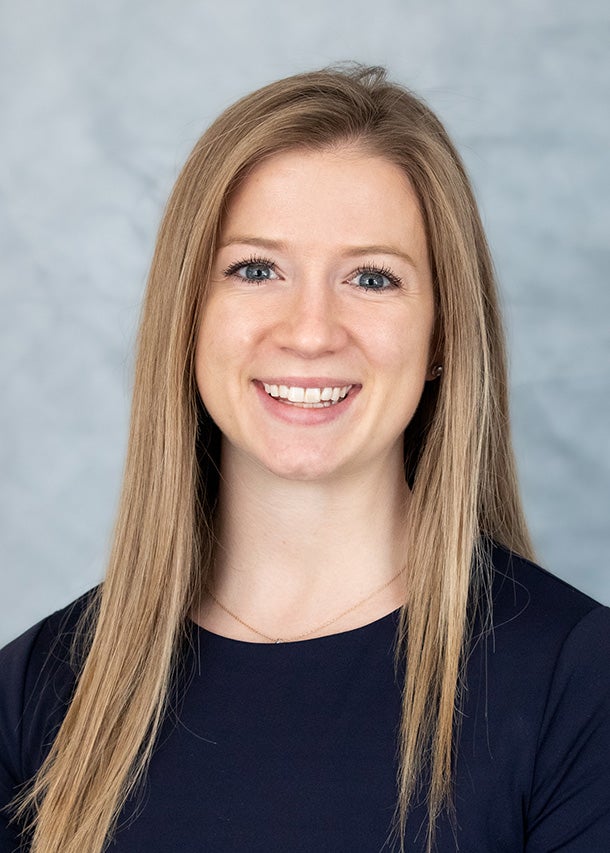 Molly Socha, M.S.
Coordinator for Student-Athlete Services
As the Coordinator for Student-Athlete Services, Molly serves as a liaison between faculty, deans, students, and coaches. Primarily focusing on the holistic development of student-athletes, Molly provides support through individual and team academic check-ins. As well as mentoring and guiding, Molly works to prepare student-athletes for class registration, academic rigor, study habits, organization, time management, and other skills to help them succeed in their years at Georgetown. She holds a Master's of Science in Organizational Psychology. (Pronouns: she/her/hers)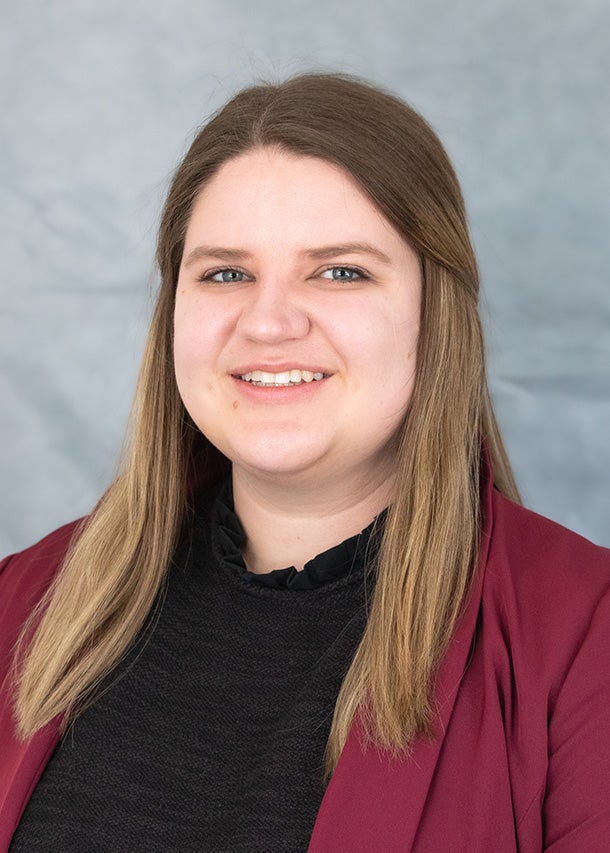 In her work as the Coordinator of Administrative Services, Kari implements accommodations for students with disabilities, handles hiring and payroll for student workers, and oversees administrative responsibilities for the Academic Resource Center. Kari is an alumna of Georgetown University, where she majored in American Studies with minors in Business Administration and History and spent three years as a Resident Assistant. After college, Kari served at the Southern Center for Human Rights in Atlanta through the Jesuit Volunteer Corps and completed a fellowship at the Equal Justice Initiative in Montgomery, Alabama. Kari has experience working at legal nonprofits, history museums, and memorials. She is excited to collaborate with students, faculty, and staff to keep the ARC running smoothly, and she is thrilled to be back on the Hilltop. (Pronouns: she/her/hers)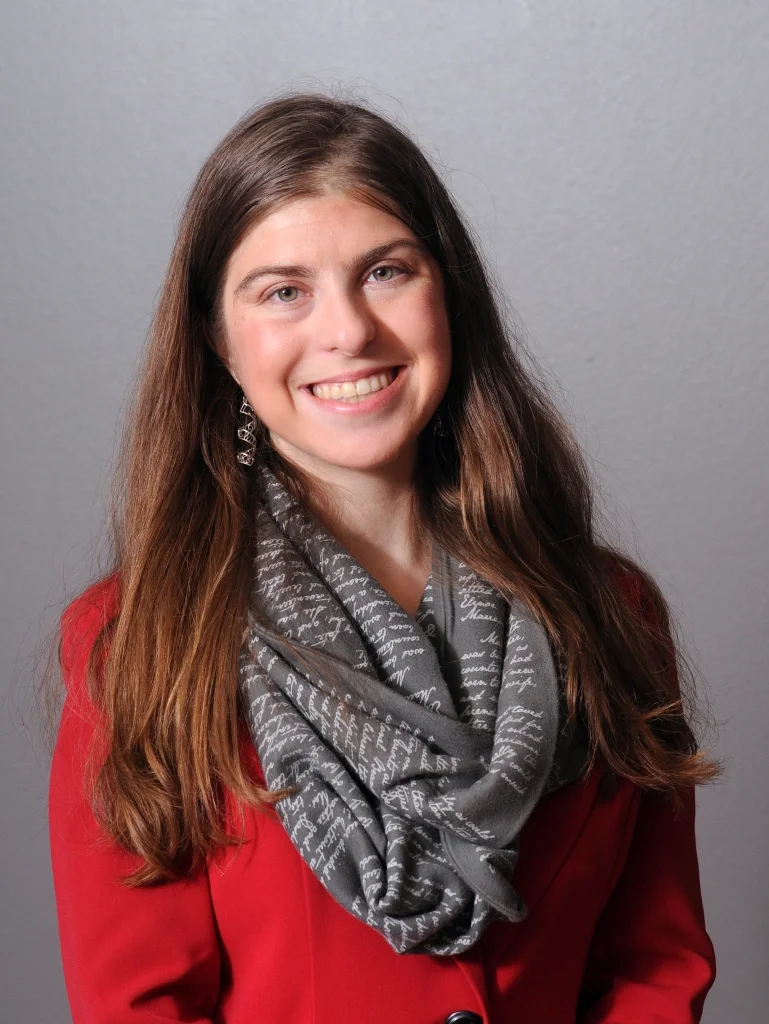 Emily Hausheer joined the ARC team in 2023. She has an M.A. in Human Rights from Catholic University, and two B.A. degrees in Politics and Policy and International Relations. She enjoys talking with students and directing their needs to the rest of the department. Emily raised Seeing Eye puppies growing up, and is a passionate believer in making education accessible for all. She lives in Washington, DC and in her spare time enjoys browsing bookstores, frequenting coffeeshops, writing articles, and learning languages.